It has been nearly seven years since Apple launched the record-breaking iPhone 6 and iPhone 6 Plus. Only now has the company''s iPhone 12 series reached a new shipment milestone, tying the achievements of the first two models. According to the latest data, Apple''s flagship mobile phone products have shipped more than 100 million units worldwide in just seven months, which is equivalent to the record held many years ago.
The latest data from Counterpoint Research emphasizes that various exclusive upgrades belonging to the iPhone 12 series, including 5G, have brought its popularity. The study also shows that the average selling price of Apple''s iPhone is at a historically high level, indicating that the iPhone 12 series'' shipment super-cycle will also trigger a revenue super-cycle that the company is expected to break every year.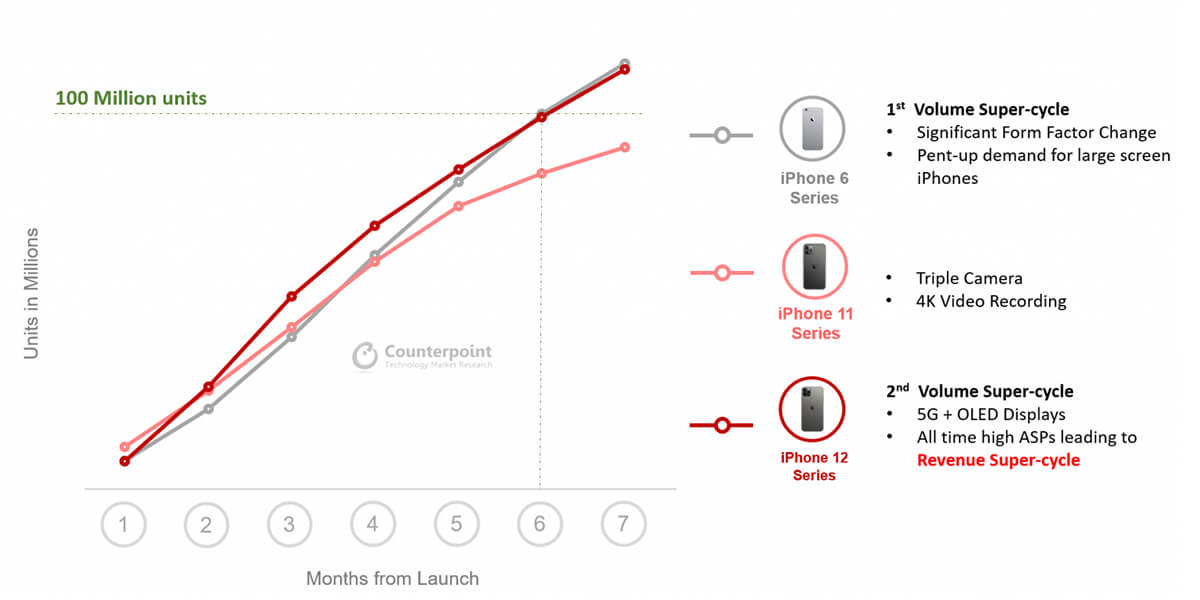 The most significant selling point of the iPhone 6 and iPhone 6 Plus is the larger display. The selling points of the iPhone 12 series are more diverse: 5G capacity, better performance, more power-efficient chipsets, larger screens, improved cameras, and more. Weigh the pros and cons, including the lack of chargers and headphones, but looking at the shipment record of 100 million units, it seems that these are not detracting factors.
Counterpoint Research also said that customer preferences have changed during the release of the iPhone 11 and iPhone 12 series. Among the latest products, the largest model iPhone 12 Pro Max is the first choice. It has accumulated a 29% market share, while the iPhone 11 Pro Max has a 25% market share. Since the iPhone 12 Pro Max starts at US$1,099, the higher volume of shipments of this model means that the company''s revenue will increase and contribute to the revenue super-cycle.