In the first quarter of last year, there were no mid-range 5G mobile phones in the European market. By the third quarter, they accounted for 20% of the field. According to data from Counterpoint Research, in the first quarter of this year, 5G mid-range phones accounted for half of the US$250-500 devices sold in Europe.
The support for next-generation networks is only part of the story: the mid-range ($250-500) and "sub-flagship" levels ($500-700) are the reasons that promoted the sales growth of old Chinese smartphones last year, and this was at the expense of Huawei.
Huawei has now almost disappeared in the Western market. Before, it was trendy in the sub-US$250 market segment, but companies that swallowed its market share chose to focus on higher price levels. Analysts believe that this is why the $250-500 and $500-700 segments are growing even during the economic slowdown caused by the pandemic. Besides, there is a clear lack of attractive devices under $250.
Relatively new brands such as Xiaomi, OPPO, and OnePlus have seen their sales increase substantially fourfold compared to the first quarter of last year. Now, more than one-third of mid-range and sub-flagship model sales come from these three companies.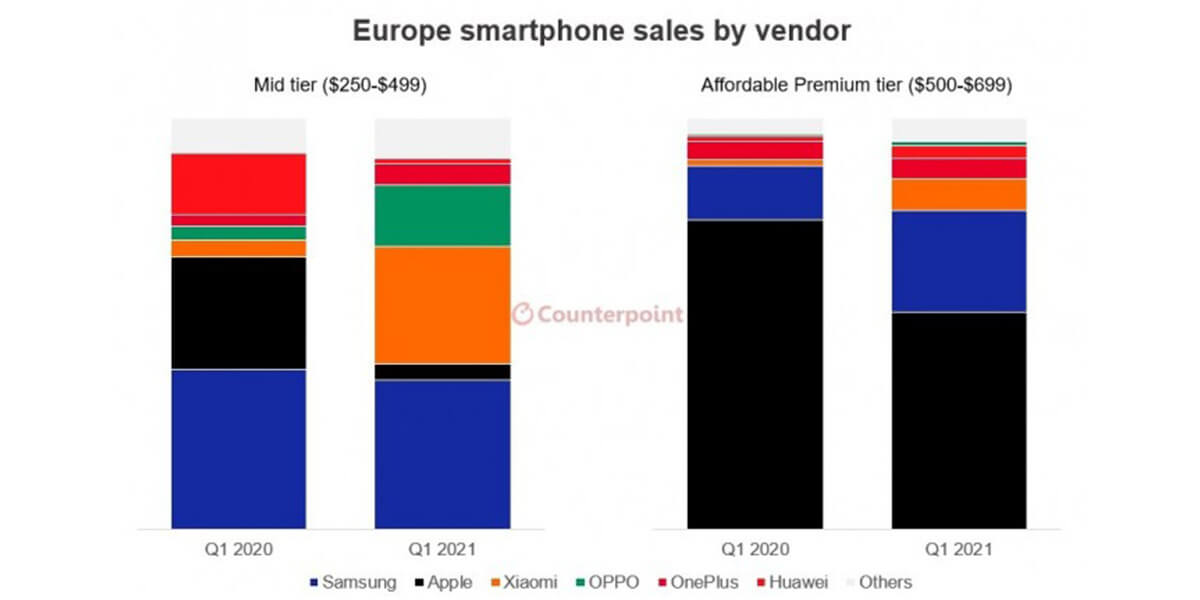 This puts pressure on Apple and Samsung in these areas. Still, according to Counterpoint, even in flagship phones, these two market leaders are not safe because Xiaomi, OPPO, OnePlus, Realme, and Vivo each have their attractions. Analysts predict that they are developing a foldable flagship machine, which will further increase the pressure on Apple and Samsung.