The latest research of Strategy Analytics'' Wireless Smartphone Strategies (WSS) service pointed out: The global wholesale price of smartphones will increase from US$279 in 2020 to US$310 in 2021, an increase of 11% year-on-year. This is the smartphone industry''s highest price since 2013. Abhilash Kumar, analyst of Strategy Analytics, said: "We expect global smartphone wholesale prices to increase by 11% year-on-year in 2021 to 310 US dollars, higher than 2020''s 279 US dollars."
"In 2021, global smartphone wholesale revenue is expected to increase by 21% year-on-year to US$435 billion, a record high. This is mainly driven by the rebound in smartphone sales (a 9% year-on-year increase) and higher average price points. This is the first time that the global average wholesale price has exceeded the US$300 mark in 9 years. The price increase is driven by the following factors: technology migration to 5G smartphones, supply constraints caused by component shortages (leading to price increases), and Samsung's launch of New hardware innovations such as folding/flip type."
Sui Qian, Senior Director of Strategy Analytics, added: "Smartphones priced at $600 and above have stimulated market growth. This is due to the steady sales of the iPhone 12 series, Samsung's rich foldable mobile phone product line, and other Chinese high-end devices (such as OnePlus 9 series, Xiaomi 11 series, OPPO Reno series, vivo X series), etc. We expect that the newly released iPhone 13 series will be attributed to the above factors in Q4 2021. Mobile phone sales of $600 and above It will increase by 34% year-on-year, and revenue will increase by 48% year-on-year, which is significantly better than the overall market and other price ranges."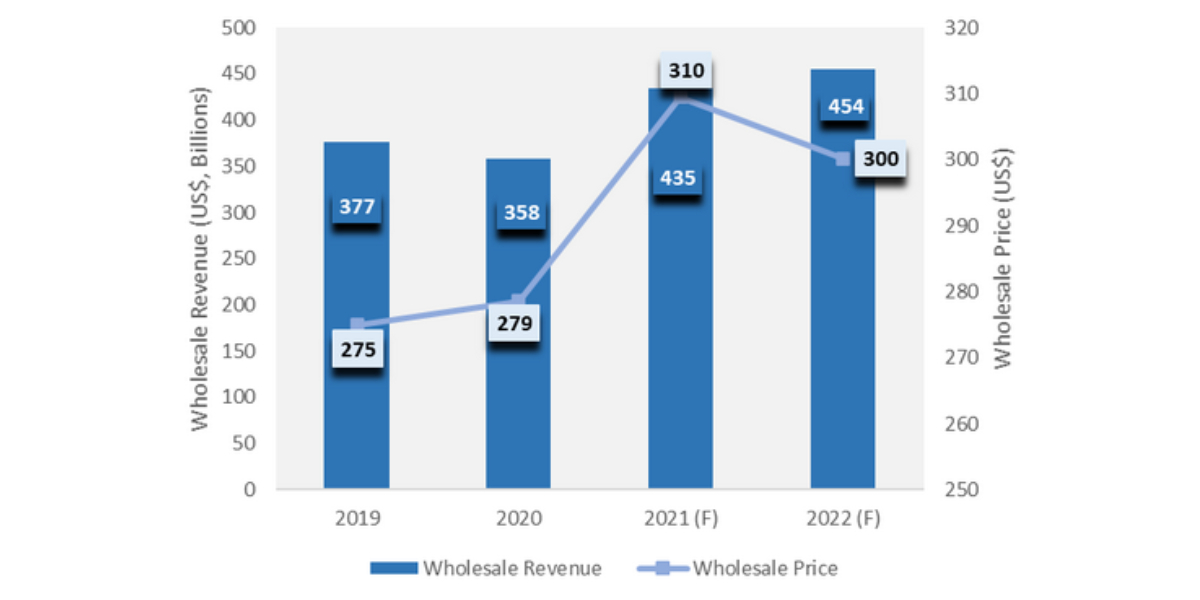 Wholesale smartphone prices and revenue in 2019-2022
Kumar added: "We expect global wholesale smartphone prices to slightly fall to US$300 in 2022. Supply constraints and the easing of component price surges, as well as the iPhone SE model that is expected to be updated in the first half of 2022, will drive prices down. We expect global wholesale smartphone prices to return to an upward track from 2023 to 2025."