Apple''s iPhone 12 dominated the first quarter of 2021 quite convincingly. The various models of Apple''s flagship family accounted for the top-selling models' revenue and volume share. According to data from Counterpoint Research, the iPhone 12 Pro Max, iPhone 12 Pro, and iPhone 12 ranked among the top three best-selling smartphones in the first quarter of 2021 revenue and volume share. The following are the market performance details: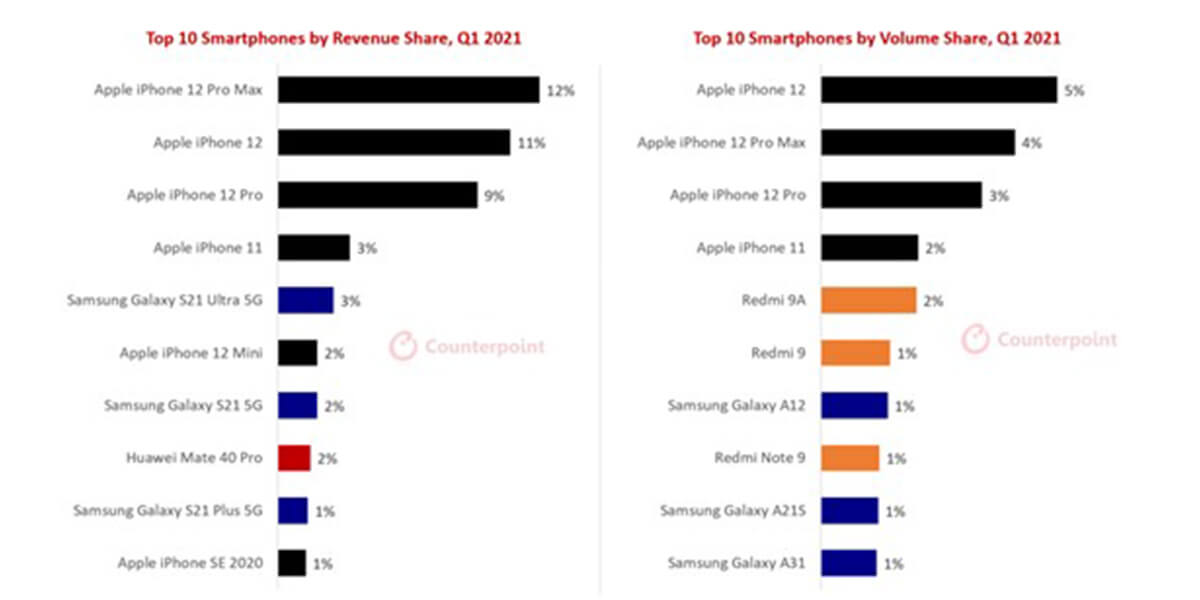 Data shows that global smartphone revenues exceeded the $100 billion mark this quarter, and this was mainly due to the promotion of flagship phone sales. Of the best-selling smartphones by revenue share, the iPhone 12 Pro Max is the most popular, while the iPhone 12 is the leader in terms of volume share.
Surprisingly, even the iPhone 12 mini has found a place in the rankings, but it is not tied with other products but in the sixth place. But in terms of revenue share, its sales are not as good as Apple hoped.
The iPhone 11 continued to perform well in 2019, surpassing the Galaxy S21 Ultra and Galaxy S21, probably due to its attractive price/performance ratio. Sadly, the iPhone SE perform poorly in 2020, occupying an only tenth place in revenue share.
Apple is working hard for the iPhone 13 series. According to analysts'' estimates, the demand for next-generation models will increase by 25% compared with the iPhone 12 series. Apple may usher in a better year for 2021. It is rumored that it will release a new phone in late September. Let''s see if the popularity of the iPhone 12 model can be maintained.