According to a global consumer study conducted by CMR, 5G has allowed the explosive growth of video content creation (concise videos) in China and Europe. More than 4 out of every 5 5G smartphone users are satisfied with the overall 5G usage.
♦︎ For early 5G smartphone users in Europe, 5G is transforming into compelling use cases, such as short video creation and viewing, video calls, mobile games, and AR/VR.
♦︎ Some of the benefits seen by early 5G users include higher quality video calls (66%), faster downloads (59%), and streaming ultra-high-definition video (55%). 5G is significantly quicker than 4G. For consumers, 5G can translate into superior speed, while at the same time, higher quality videos can be uploaded, shared, and streamed on social media without any lag.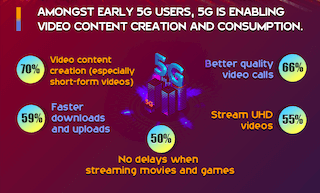 ♦︎ 5G has now become a key consideration for smartphone purchases everywhere.
♦︎ In developed markets where 5G technology has been developed, such as China and Europe, 5G is the main driving force for smartphone purchases (60%), second only to battery life (67%).
♦︎ In India, 5G readiness is one of the top three considerations for advanced smartphone users (83%), second only to battery life (84%) and smartphone brand image (84%).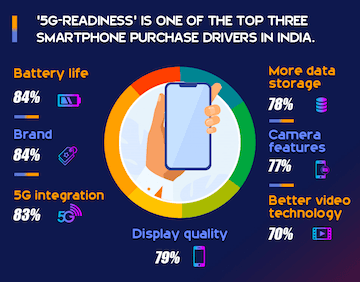 ♦︎ Indian consumers have a strong desire to upgrade to 5G smartphones.
♦︎ Nearly 3 out of every 5 existing advanced smartphone users will upgrade to 5G-enabled smartphones.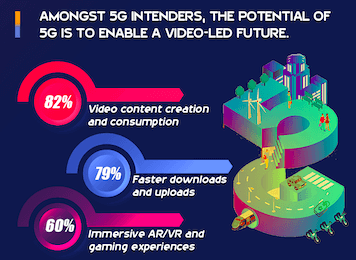 ♦︎ As far as 5G smartphone products are concerned, the emotional bond and affinity between consumers and intelligent phone brands can be realized around their brand vision, innovations, and leadership in 5G technology research and development.
♦︎ In Europe, especially Western Europe, Samsung scored the highest (88%), followed by Huawei (65%).
♦︎ In China, Huawei (91%) is the most popular brand of 5G smartphones, followed by Apple (58%).
♦︎ As for India, OPPO (81%) is the brand with the highest score for 5G smartphones, followed by Samsung (79%).