According to Gartner data, in the third quarter of 2020, the total global sales of smartphones for end-users were 366 million units, a decrease of 5.7% from the third quarter of 2019. The total global mobile phone sales for end-users were 401 million, a year-on-year decrease of 8.7%.
After two consecutive quarters of 20% decline, quarterly sales of smartphones began to show signs of continuous recovery. Although vendors have launched many 5G smartphones, the government has relaxed quarantine measures in some areas. And smartphone sales continue to be weak compared to the same period in 2019.
From the second quarter to the third quarter of 2020, global smartphone sales experienced moderate growth. This is due to pent-up demand in previous quarters.
Economic uncertainty and continued concerns about the next wave of epidemics continue to pressure non-essential expenditures before the end of 2020. The delay in 5G network upgrades also limits the opportunities for smartphone vendors.
Among the top five smartphone manufacturers, Samsung ranked first with a market share of 22%. Xiaomi surpassed Apple for the first time, ranking third with 44.4 million sales. Apple sold 40.5 million units in the third quarter of 2020.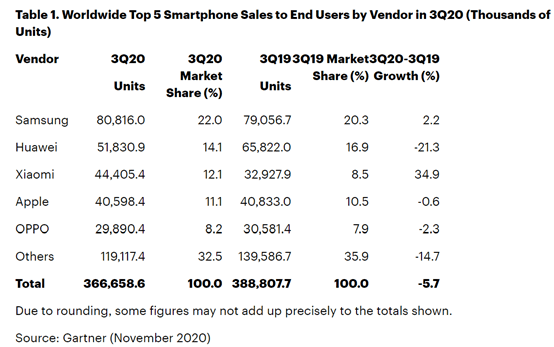 Samsung and Xiaomi are the only two of the top five suppliers to achieve growth in the third quarter of 2020. Samsung benefited from its strong positioning among Android users, with sales of 80.8 million units. In the third quarter of 2020, Xiaomi grew by 34.9%, securing a market share of 12.1%, surpassing Apple to rank third. Xiaomi has benefited from Huawei's losses, including its strong performance in China.
Apple sold 40.5 million iPhones in the third quarter of 2020, a decrease of 0.6% compared to 2019.