The top ten list of the world's most popular 5G mobile phones announced! According to data released by Counterpoint Research, a market research agency, the number one 5G mobile phone with the highest global market share in September this year was Samsung's heavyweight flagship Galaxy Note 20 Ultra in the second half of the year, with a market share of 5%.
With a market share of 4.5%, Huawei's flagship model P40 Pro is ranked second. Another low-priced mid-range Nova 7 mobile phone, also from Huawei, ranks third with a 4.3% market share.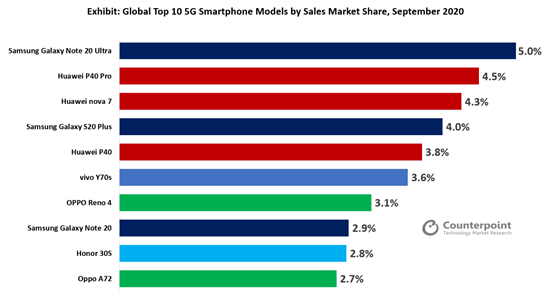 The fourth to tenth places are Samsung Galaxy S20 Plus, Huawei P40, Vivo Y70s, OPPO Reno 4, Samsung Galaxy Note 20, Huawei Honor 30S, and OPPO A72.
The top ten most popular 5G mobile phones in the world have similar market share gaps. Besides, in addition to the high unit prices of Samsung and Huawei's 5G flagship models, mid-range 5G phones have also grabbed many seats.
The market research agency expects that as influential brands have recently launched 5G-supported models at different prices, plus Apple's new generation of 5G-supported iPhone 12 and iPhone 12 Pro, as well as iPhone 12 mini and iPhone 12 Pro Max, launched in October and November, which will help increase the intensity of the 5G replacement wave.