As COVID-19 continues to spread around the world, smartphone sales channels are turning to the Internet. According to the forecast of Strategy Analytics, a US research company, 28% of global smartphone sales in 2020 will come from an online purchase, which prompting mobile phone manufacturers and operators that focus on physical store sales to adjust their strategies.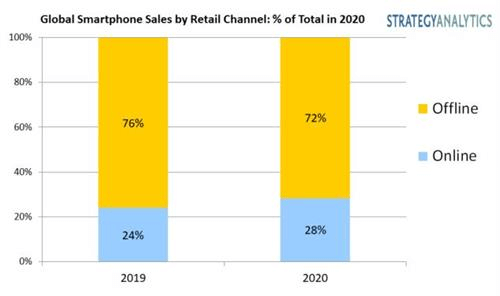 According to Strategy Analytics forecasts, global smartphone online purchase sales will reach 28% in 2020, an increase of 4% from 24% in 2019, setting a new record in history.
Smartphone manufacturers are actively engaged in e-commerce. During the "6.18" Mid-Year Sale, Apple Inc. implemented a rare markdown sale in its history on the Alibaba Group's e-commerce platform. Besides, the e-commerce-centric brand Huawei "HONOR" also performed relatively strongly.
It is difficult to expect a recovery in physical store sales in the absence of predicting when the global epidemic will end. Apple also affected by the epidemic, and only some of its physical stores in the United States have resumed operations. Strategy Analytics believes that the retail industry and major communication operators with a large number of physical stores will be negatively affected by the epidemic.