According to foreign media reports, statistics show that Android is still the world's number one mobile operating system, and it is no secret that the iPhone is the best-selling brand in many countries. According to the data shared by Counterpoint and emphasized by Philip Elmer-DeWitt, the dominance of the iPhone is real and will not end soon.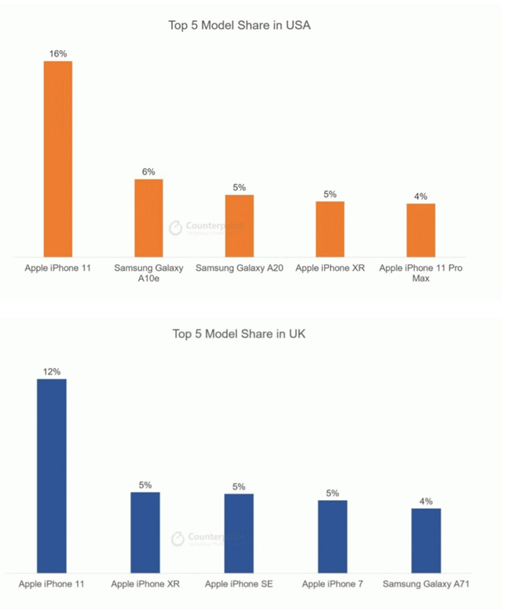 by Samsung Galaxy A10e, rather than the Samsung Galaxy S20 or other models in the Galaxy S series, which is very surprising. Samsung Galaxy A20 ranked third, followed by iPhone XR and iPhone 11 Pro Max in fourth and fifth, respectively.
The Android system is facing a worse situation in the UK. In the top five rankings in the mobile world, the iPhone occupies four seats, and among all Samsung models, only the Galaxy A7 is on the list, ranking fifth.
Perhaps many people think that Chinese users are more supportive of the Android system, but this is not the case. Chinese users also prefer the iPhone. According to the data, Chinese users are far fonder of iPhone 11 than other models, followed by OPPO A8, Huawei Honor 9X, Vivo Y3, and Huawei Mate 30 5G version.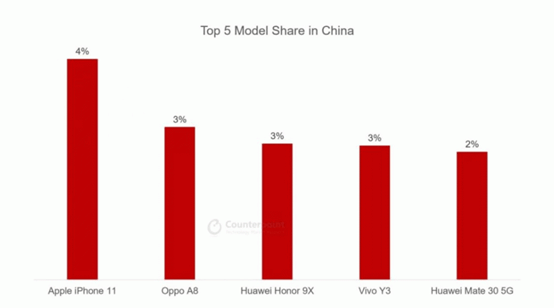 However, nobody knows when Apple plans to unveil the new 2020 iPhone, as is said that the company is working to solve various problems caused by the global health crisis. In other words, although Apple is expected to announce the new iPhone in September and enter the market in October or November, however, some people familiar with the matter said that the release date would be delayed for various reasons.