One of the latest reports from Counterpoint Research, a famous analysis company, shows that one-third of smartphone users will reduce their budget by 20% when buying the next one. According to its research, the main reason for the reduction in expenditure is the continuing pandemic of Covid-19. At present, various industries and economies are suffering a huge impact, and the consumption expenditures during this period are also reduced significantly.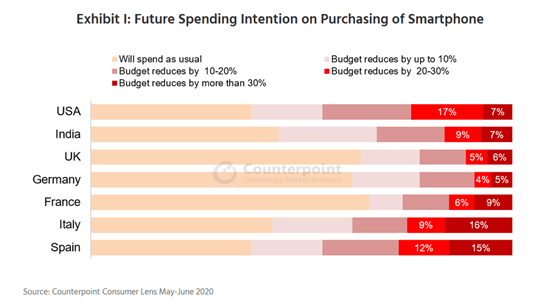 In general, this situation will bring a negative trend to the smartphone industry and its full-year sales in 2020. The research in the United States, United Kingdom, India, France, Germany, Spain, and Italy reveals something interesting that most people in countries such as India, Spain and Italy are planning and waiting to buy a new smartphone. On the other hand, in counties like the US, some people are planning to postpone their smartphone buying.
Senior analyst Pavel Naiya said: "The outbreak of Covid-19 and the uncertainty of the income in the future have affected consumers' behavior, and many people limit their purchases to necessities strictly. Smartphone consumers in Spain, and Italy are affected the most, they are planning to reduce the smartphone purchase budget by 20% or more.
Among them, the budget reduction of consumers in Spain (27%) and Italy (25%) are the highest, followed by the United States (24%). According to the current situation, we think that this trend will not have ended until the middle of the year 2021."