The latest GSA report shows that 40 countries and regions around the world have launched 70 commercial 5G networks. With the 5G network launched of Japan Softbank Corp, the count of commercial 5G networks that the GSA database has confirmed has reached 70.
All the major Japanese operators, such as NTT DoCoMo, KDDI, and Softbank, have launched 5G services in Japan. Rakuten Mobile, Japan's fourth-largest mobile operator, is expected to launch services on April 8.
By the end of March 2020, 381 operators in 123 countries and regions around the world have announced to make investments on 5G. Among them, 70 operators in 40 countries and regions have launched one or more 5G services that support the 3GPP Standard.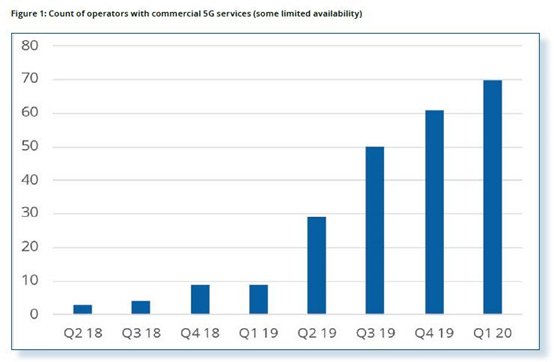 There are 63 operators that have launched 5G mobile services that follow 3GPP standards, including 57 that launches full services and 6 that launches limited services. 34 operators have launched 5G FWA that follow 3GPP Standard or household broadband services, including 27 launches full services and 7 launches limited services.