The smartphone market has been growing by leaps and bounds since 2009. In the third quarter of 2019, Samsung was leading the fray with a worldwide market share of about 21.8%. In fact, since 2012, Samsung has been the market leader in the global smartphone market and has consistently held a market share of 20 to 30%. In 2018, Samsung had the distinction of shipping over 292 million smartphones across the world.
However, Samsung is facing competition from Apple, which is the second-large smartphone supplier in the world. In 2017, Apple sold over 215.8 million smartphones worldwide while Huawei is the third-largest smartphone vendor in the world with a global market share of 10.2%.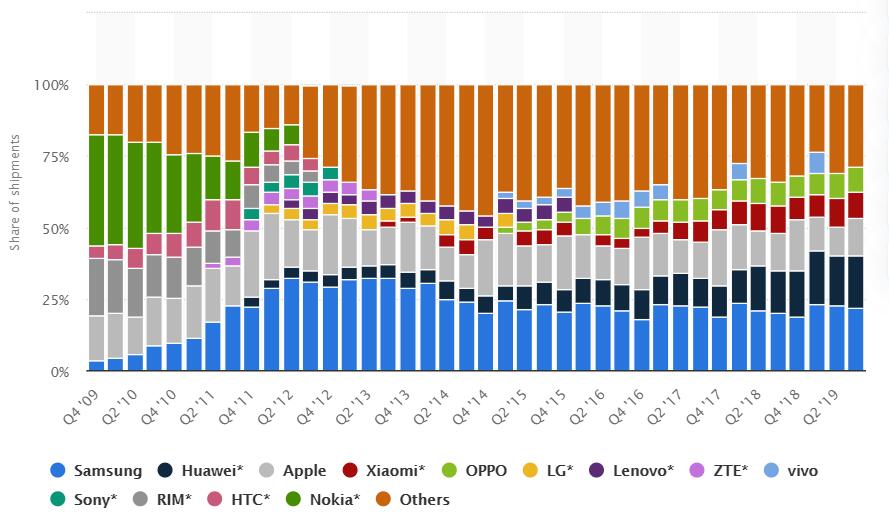 The demand for smartphones has increased with the advent of mobile internet. It allows people to search and find what they need on the go. As a result, wholesale mobile phones are a reality and it is possible to buy cheap wholesale mobile phones. The question is where can you find attractively priced smartphones.
How to Find Wholesale Mobile Phones Suppliers
The good news is you can find wholesale mobile phone suppliers online with relative ease. eSource is a well-known wholesale directory in the UK. Here, you can connect with wholesalers to buy wholesale mobile phones. This site is UK-specific, so it could get expensive buying bulk quantity smartphones since Britain is poised to leave the European Union.
The other wholesale trading platform that retail businesses can turn to is Merkandi. At this website, you will be able to connect with wholesale mobile phone suppliers with relative ease. Merkandi offers country-specific portals for retail buyers from across Europe.
Whether you are looking for brand new or used mobile phones wholesale, eSource and Merkandi could be just what you are looking for. However, both sites are not dedicated sites for mobile phones; they also cater to all other types of wholesale goods and products. If you are looking for a wholesale website solely for mobile phones, you are in luck. There is one specific site that lets you purchase high-quality used smartphones wholesale without any difficulty regardless of where you are based.
Wakephone: Your Go-To Wholesale Mobile Phone Supplier
Wakephone is a leading wholesale used mobile phones supplier in Europe. It is renowned for its efficient delivery and superior quality of used mobile phones. In case you are wondering why Wakephone should be your go-to bulk mobile phone supplier, here are some compelling reasons to convince you:
Logistics Time Stability

Wakephone has warehouses across Europe, including the UK, France, Spain, Germany, and Italy. So, when you order bulk quantity, the shipment will be dispatched from the nearest warehouse so that you receive it without any delay or lengthy waiting time.
Strict Grading Scales

At Wakephone, every single device undergoes thorough and complete testing using PhoneCheck and thereafter the phones are graded. This ensures you always have access to the best quality used mobile phones. Wakephone lays a lot of emphasis on customer satisfaction.
Effective Communication

If you face any issue with any phone, you can make use of live chat. The technically sound support staff provides effective as well as timely responses to ensure all issues are resolved within no time.
Payment Security

Wakephone offers assurance to bulk phone buyers by offering them PayPal or bank transfer as a payment method. These two dependable methods provide payment security to customers.
In Conclusion…
If you are looking for the best quality wholesale mobile phone suppliers, you cannot go wrong with WakePhone. It is your one-stop destination for high-quality used mobile phones. As a bulk buyer, if you are keen to take advantage of Wakephone's special offer, get in touch right away and enjoy a significant discount on your order.