The global refurbished smartphone market shrunk 2% year-on-year (YoY) in H1 2019 to 64.6 million units, according to the latest research from Counterpoint's Refurbished Smartphone Tracker. In the same period last year, 66 million devices hit the secondary market. The small drop is mainly due to the decline of new device sales, which restricted supply and the continued growth of the secondary market. Secondly, the China-US trade war had a dampening effect on the mood in the secondary market.
Commenting on the size of the secondary market, Associate Director, Tarun Pathak, highlighted, "The secondary smartphone market declined because large donor regions, such as Western Europe and North America, saw clear declines in new device sales. Upgrade cycles of premium devices, which fuel the secondary market, were especially weak as holding periods continued to increase. Finally, the continued uncertainty of the China-US trade war made the secondary market ecosystem more conservative. A new tariff will have a crippling effect on the secondary ecosystem. This forced many companies to think short-term in case a new tariff was implemented."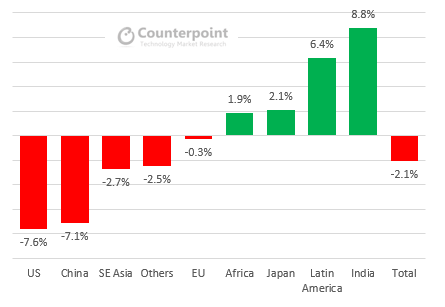 India, Latin America, and Africa were the only countries or geographies which saw growth in the consumption of secondary market devices. All other countries and regions saw a decline in sales of used devices. With the drop in overall volumes, consolidation continued within the ecosystem.
Research Director, Jeff Fieldhack, added, "During H1 2019, most margins tightened within the refurbished and used device ecosystem. This has led to consolidation within the industry—both horizontal and vertical integration. We saw many key players add more services. For example, some of the key collectors who focus on sorting, diagnostics, and grading added some repair services. As scale becomes more important, we expect to see more consolidation and vertical integration."
Fieldhack added, "In some of the larger donor countries, there were shortages of A and B grade devices and supply did not meet the secondary market demand. This had a ripple effect on the ecosystem during H1 2019. This changed the flow of devices to Hong Kong and China. Since there were shortages of A and B grades, more C and D grades flowed to China. This helped the repair industry in China add value despite volumes falling."
Other key themes that emerged during the H1 2019:
Many within the ecosystem concentrated even more on Apple and Samsung because of the uncertainty caused by the US-China trade war. Most believed this reduced risk as these two OEMs retain value higher than all other brands.
Some of the secondary market repairs business is moving outside of Shenzhen. It is not only new manufacturing leaving southern China. The secondary market saw an exodus, too, mainly to northern China. There was also a shift to other southeast Asia countries.
Huawei saw declines in the secondary market outside of China. The same pressures seen on new device sales occurred in the secondary market.
India continues to see the highest YoY growth in consumption of secondary market devices. Government policies and better trust will help the secondary market continue to grow into 2020 and beyond. Almost 82% of devices do not go into the secondary market, indicating that the market has a lot of potential to grow.
Samsung partnered with uBreakifix in 2018. This partnership has grown and is now eligible in over 300 stores nationwide. Both in-warranty and out-of-warranty repairs are completed on devices going back to the Galaxy S6 and up to S9 family. The S10 and Note 10 will be added soon. Look for other OEMs to partner with repair shops to get devices back into users' hands more quickly and to save money on doing repairs in their certified factories.
WakePhone, as a leading used mobile phone wholesaler, we source directly from top tier carriers, phone auction houses to ensure consistent quantities and quality, we sell iPhone、Samsung、Huawei and Xiaomi phones. Contact us to get the latest price list.