In entire 2018, 217.72 million iPhones were shipped worldwide.
According to the Counterpoint survey, the following are the Top 10 mobile phones in 2018.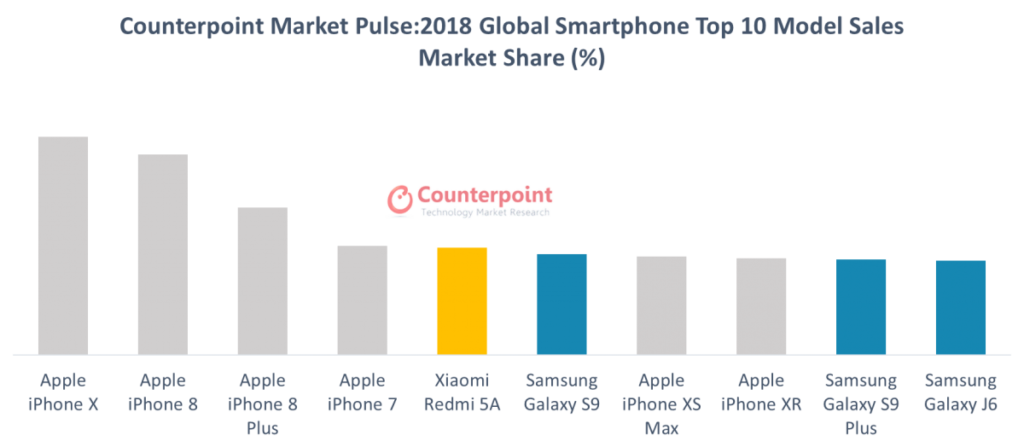 Which One Will Be The Refurbished Wholesale Best Sale In 2019?
With the introduction of the new iPhone 11 and 11 Pro lines, people are finding themselves wondering if they should invest in a wholesale refurbished iPhone 8 or if they should go for the iPhone X. Plenty of research goes into manning iPhone sales, and if the numbers are anything to go by, the iPhone X is a clear contender for this year's best sale.
Current studies show that prior to the launch of the iPhone 11, iPhone X sales have absolutely dominated the market. This is important for a few reasons. First of all, it speaks to the quality of the product that sales are not only taking over the market as a whole, but are even high compared to other iPhones. In 2018 and into 2019, the iPhone X has topped the market with sales.
This is important for the wholesale refurbished iPhone X sales because there will be plenty of people trading them in. Since so many people are buying them, it means that there will likely be a higher volume of these phones being turned in for future upgrades. This is great news for people who are looking to buy the iPhone X at a refurbished price.
The iPhone X offers a collection of valuable upgrades. It provides a brilliant camera setup with a high-speed system and a vibrant screen. This is without question one of the most advanced iPhones ever made, which is why it is easy to see why buying it refurbished is such a great deal.
As the masses swarm to get their hands on the iPhone 11, the iPhone X will be getting traded in at a larger volume. With what we know of Apple sales, it seems obvious that the wholesale refurbished iPhone X will be the top wholesale refurbished phone for the year. Fans of the brand will be pleased to get great deals on this amazing product at a fraction of the cost compared to the price only a few months back.